Windows Cleaning Services in Sydney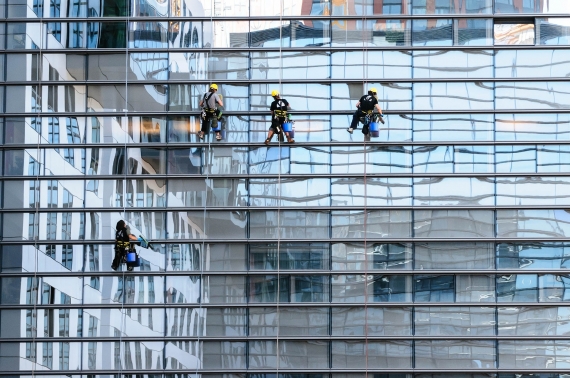 Windows are difficult to clean, however, they require cleaning on a regular basis in order to stay in tip-top condition as well as keeping allergies and dust at bay. Routine upkeep likewise forestalls mineral form ups and expands the lifespan of the windows. In case you're searching for expert window cleaning services in Sydney, you're at the ideal spot.
We at B&R Cleaners will take window washing off your agenda of tasks. We rely on a committed group, who serve the whole city of Sydney, including the surrounding areas. They will wash your windows all around, evacuate spider webs and wipe the ledges and edges neat & clean. In addition to that, we also provide some of the most economical service rates in Sydney.
Our professionals can perform both exterior and interior window cleaning. They do the latter utilizing professional-grade cleansers and tools. This incorporates eco-friendly glass cleaners and scratchless squeegees to guarantee perfect outcomes. If required, they can incorporate interior glass surfaces to the list of tasks too. Exterior windows are cleaned utilising a stepladder and other industry-grade certified equipment, which is a standout amongst the best cleaning practices.
As a preferred company amongst Sydney's most legitimate window cleaning organizations, we additionally work with businesses and offer commercial solutions as well. You can completely rely upon us for making the windows of your premises sparkly clean and pristine. A building that is kept clean all throughout is generally a sign of a business that's serious about its work.
Thus, if you are in Sydney, and your residential or commercial property is in absolute need of proficient window cleaning services, then don't waste a moment more and get in touch with our expert team at B&R Cleaners right away. We'll discuss your requirements in an elaborate manner and also provide a free no-obligation quote.