Graffiti Removal Services In Sydney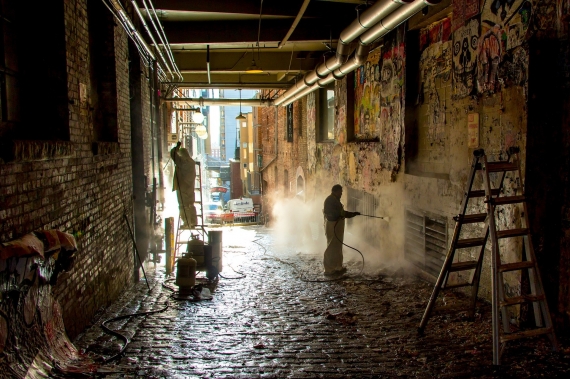 Thinking about how to eliminate the dreadful graffiti and undesirable vandalizing 'work of art' from your doors and fences? The impact of spray paint can be tough and difficult to clean up on your own. Indeed, even with long durations of scouring using common household detergents, you will be unable to dispose of the paint – even if you do, you might just end up causing damage to the surface beneath. However, materials like aluminum, glass, brick, timber, colorbond, etc. can be professionally and safely cleaned, to restore the surface to its original state. That is where we come in. Our experts at B&R Cleaners exceed expectations in providing top of the line graffiti removal services in Sydney.
Our high-pressure hot water cleaner makes it successful and simpler to remove graffiti painting without utilizing brutal synthetics that may harm the surface. All solutions used are environment-friendly and leave the site looking as spotless and flawless as new. Unlike some other graffiti removal service providing companies in Sydney, we are aware of the right methods and tools necessary to ensure a 100% cleanup of your vandalized surface for guaranteeing a slick and smooth finish.
After the graffiti has been removed, we offer a shield to avoid future graffiti attempts - a double layer anti-graffiti protection which is made to secure signs, metal, timber, stonework and other surfaces from a wide range of spray paints. In case the miscreants return and attempt to vandalize your property with artworks one more time, you will be able to wash off the paint simply using hot water and a squeegee.
Thus, if you are looking for cost-effective graffiti removal services in Sydney, make sure to get in touch with our expert team of cleaners at B&R Cleaners.